8 Social Media Trends for Businesses in 2018
To the average user, social media can be a minefield of fake news, celebrity gossip and political scandal. But for marketers, social selling is now the pinnacle of internet street cred and the most powerful marketing tool to grace the digital sphere.
With such an enormous percentage of the public using social media – Statistica supports an estimate of 2.62 billion in 2018 – it's time to get to grips with the reality of targeting on social media. As for 2018, creating an interesting and valuable social presence will mark the difference between social success and a collapse in a company's online presence.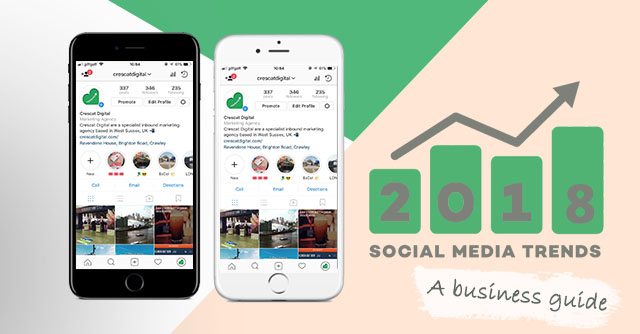 8 Ways to Use Social Media for Business
Social media is spearheading a paradigm shift for businesses both new and old – but for any marketer, social can be a sharp learning curve if don't know where to focus your efforts.
Amongst an explosion of selfies, viral memes and Twitter's expanded 280-character limit, social media is a platform that allows anyone to demonstrate their expertise on a global scale, in real time with very little cost. Here are 8 ways you can use social media to progress your business:
1.      Use Chatbots to Communicate
Whether you're an established company or just starting out, the best way to create value is to listen to the online communities who carry a strong and influential voice about your brand.
"If you want to understand how a lion hunts don't go to the zoo. Go to the jungle" – Jim Stengel
Social media opens a direct line of communication. Whether that be with your customers, colleagues or potential clients, there's much to be gained by engaging directly with people through different channels.
Businesses often find themselves faced with an influx of commonly asked questions, but with chatbots revolutionising the customer service space, directing people to a cleverly crafted FAQ page is quickly becoming a thing of the past. Successful marketing strategies are adopting more evolved conversational interfaces powered by artificial intelligence. Don't worry, it's not as complicated as it sounds!
Facebook Messenger Bots:
Facebook Business pages publicly display how fast you respond to messages that are delivered to your inbox. The quicker you respond, the more trustworthy your business appears.
Let's see how we can improve your response time without constantly tending to your inbox.
You can set your page to 'away' which notifies users on the front page
Change your 'response time display'
Manually changing your response time is also an option under page settings. Just remember to be honest!
By going into your page settings, you can choose to automatically reply to customers, which increases your response time.
Responding to 90% of all Facebook messages within 5 minutes or less will see businesses achieve Facebook's "Very Responsive to Messages" badge which is displayed on your page – cue eternal bragging rights!
You can set a generalised message (just like the image below), or customise your responses based on keyword detection, or allow users to choose their query from a selection!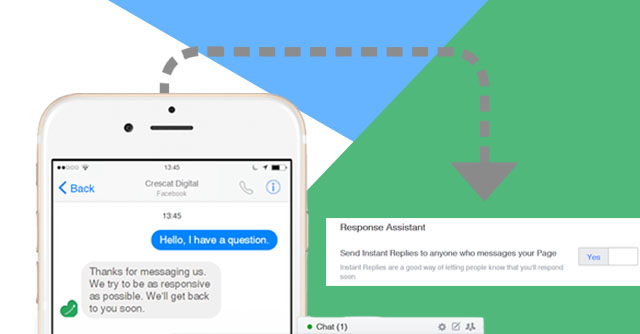 2.      Encourage user-generated content
Social isn't a one-way street! Since the dawn of time brands have been trying to engage and interact with their leads. But now more than ever, customers are taking to social media to start the conversation – so it's time marketers took advantage of this!
User-generated content isn't new. Simply scroll down the newsfeed of any social network and you'll see customers posting about their favourite brands!
Influencer marketing:
Making influencer relations should be a heavy priority for any business in 2018.  Simply reach out to respected social media users who have page authority and build a relationship.
With customers now looking towards their peers for product reviews and opinions, user-generated content has become much more powerful than branded content. On Twitter and Instagram especially, 49% of users rely on recommendations from influencers!
Let's break down how to focus on user-generated content:
Discover – Find influencers in your specific niche to partner with and co-create. Try running an Instagram content, takeover campaign or simply use influencer marketing to promote your latest products.
Engage – Engage with influencers by offering both paid and unpaid opportunities. Merging product sampling with influencer marketing on Instagram especially achieves a great level of authenticity with content.
Network – Building your influencer network will help your 2018 strategy continue to grow. Focus on community growth by direct messaging on your chosen platform.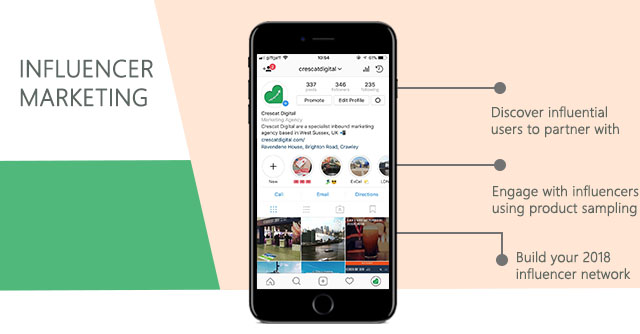 3.      Live stream to increase your reach
The evolution of video marketing isn't slowing. In fact, live streaming will continue to dominate the social sphere well into 2018. But who's watching?
With nearly all social platforms incorporating live streaming in some way, 87% of marketers are using video content to promote their brands and businesses. Here's why:
80% of audiences would rather watch a live video from a brand than read a blog
73% of B2B businesses using live video report positive results to their ROI
For 67% of viewers, video quality is the most important factor when watching a live stream
With Facebook, Twitter, Instagram and Youtube all supporting live videos, it's a perfect opportunity to reach as many of your customers as possible in real time.
4.      Share your content
Social media is the simplest way to your content. Whether it's your own original work or something you've sourced, users love to engage with something visual. An easy way to gain exposure when sharing a blog for example, is to mention the author and company they work for. Just be sure you're not endorsing your competitors!
Social media is the perfect way to share:
Images
Videos
Cinemagraphs
Polls
Quizzes
Blog posts
Infographics

5.      Actively increase your following
Building a following isn't likely to be the main goal for your business. But having a respectable number of likes should be a priority if you are to come across as a credible business online.
Businesses often make the mistake of expecting people to follow them simply because they're on social media. Instead, you must be proactive in attaining a unique and relevant audience.
How can I increase my following?
Consistent posts – scheduling posts ahead of time is a simple yet effective way to keep your online presence consistent, even when you're out the office. Social media management tools like Hootsuite and Buffer will save you time, and allow you to track the performance of your content.
Join conversations – comment on people's posts within your industry. Try to be genuine in your conversations – we can spot a spammer from a mile off!
Attract new customers – brainstorm keywords that people might use when researching your product or brand – track these across social spaces
Hashtags – the free and easy way to direct your posts to a specific audience. Incorporate the most successful keywords into your posts with a hashtag in front. This will expose your business to the right and relevant audience.
Analytics – use the insights and analytics that most platforms offer to steer your social strategy in the right direction.
Facebook Insights
Twitter Analytics
Followerwonk – lets you dig deeper into Twitter analytics
Instagram Insights – set up a free business profile if you have 100+ followers in order to use the app's built-in analytics tool
Refer to your sharing schedule and monitor which posts receive the most engagement.
6.      Paid social advertising
The possibilities of social media are limitless, especially if you have the funds to put into it. With 2 billion people using Facebook every month, marketing on this channel will help you build lasting relationships with your customers.
How to use Facebook advertising for Business
There are three levels of Facebook's campaign structure:
Campaign – structuring your ads begins at the campaign level. Choose your advertising objective from options like traffic, post engagement, page likes and conversions.
Example: a healthy food subscription service might set up a campaign to track how many conversions happen as a result of their Facebook ads.
Advert set – your advert set contains a collection of one or more adverts. At this level, you can adjust your target audience, budget, and physical placement of the ads.
Example: Facebook advertising goes beyond the basic targeting of age, gender and location. You can target specific ads based on people's life events, purchasing behaviours and more.
Advert – finally you decide on the creative you use to advertise your product or service. Don't forget the text to accompany your image or video.
7.      Instagram stories
Snapchat and Instagram are two different platforms which serve two very different purposes. Over the last year, the option to share content temporarily on Instagram stories has given Snapchat some fierce competition.
Here's why you should integrate Instagram stories into your 2018 social strategy:
Links – you can place a link to a product, ticket sales or an online shop.
Features – you have a variety of features to use including stills, videos, boomerangs and rewinds.
Polls – you can invite your audience to take part in polls which provide current feedback on a specific topic.
Events – rather than clogging up your Instagram feed with large amounts of content, you can display it seamlessly on your story.
Repurpose – why not try repurposing an image or video that did particularly well on your feed?
Geotagging – you can place the location of your shop or business in your Instagram story, allowing customers to see where you are in real time. This function is particularly helpful if you use influencers to advertise your brick and mortar store!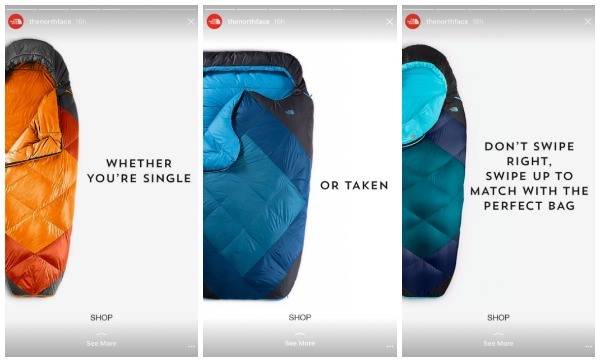 With Instagram stories becoming a significant feature of social marketing strategies, how do you know if your efforts are actually working?
Here are some metrics to track:
Unique views – the number of people that viewed your story
Completion rate – the number of people that viewed every slide in your story
Poll entries – check how many people give an answer to your poll
Direct messages to your story – the number of people that send your account a direct message from your story
8.      Paid partnerships with brands
In 2017 Instagram rolled out a new feature which lets a user tag a business they have entered into a paid partnership with.
Posts or stories which are the result of a commercial relationship appear with the sub-heading 'Paid partnership with,' followed by a link to the business partner's acc
Not only does this allow users to determine when a celebrity or influencer is being paid to advertise a product, but it also gives businesses the ability to track insights surrounding this type of post.
Business partners will see shared reach and engagement metrics on their Facebook Page Insights.
Key Takeaways
If there's one way to thrust your business into the limelight, it's through the power of social media.
These 8 social media trends should be an essential addition to your online efforts in 2018 and compliment your existing marketing strategy. Social media is an effective, and inexpensive way to align yourself with some of the biggest names in business, whatever your budget.
Whether you're going live on Instagram stories or you're setting up a chatbot for customer service, you'll want to keep a close eye on these developments throughout the year.
Anything else social you think we should look out for in 2018? Let us know in the comments!