SEO Trends & Predictions in 2018: What to Expect
It's true that SEO is constantly updating, changing & adapting. Keeping website owners – and, agencies – on their toes! But, getting ahead of the game is key to keeping up with the constant cycle of updated algorithms & ranking factors. So, take a look at our SEO trends, predictions & guesses for 2018!
SEO Predictions, Tips & Continuing Trends for 2018:
• Voice Search – Will it or Won't it?
With homes around the country quickly embracing growing smart home technologies that utilise voice commands & search functions, it would be silly of us not to expect more of the same for 2018. An SEO conscious website should include in their SEO plan a reflection of current market trends. And if Voice Search is not on yours. It should be – "Alexa! Set a reminder to add Voice Search keyword research to my 2018 SEO plan!"
Did you know: Google reports 40% of adults are using a voice search daily?
Top tips for Voice Search include structuring content to reflect the longer phrases people will use when searching with their voice.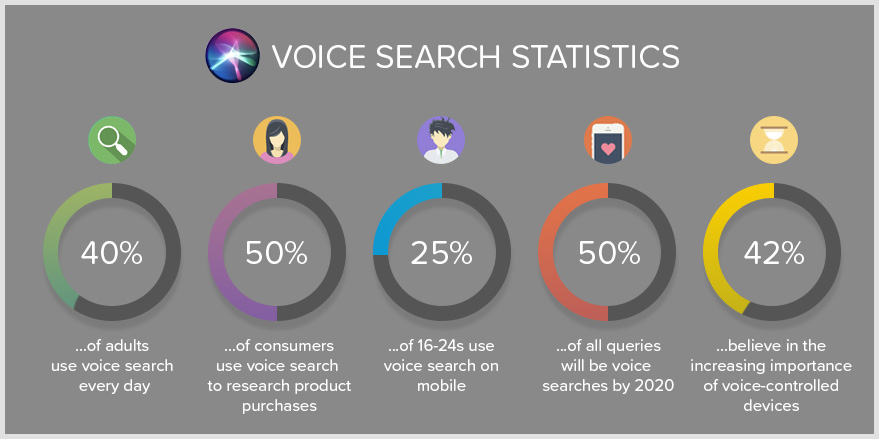 • Stand out in the SERP
Being on the first page of the search engine results page (SERP) is great. But with search engines continually adding features and changes to the user experience, it's standing out amongst the other results that really improve your site's click-through rates. Features we've seen in recent years include recipe cards, featured snippets & more user intuitive local map packs. Expect updated features like these for 2018 and be on the lookout for the opportunity to use Schema-markup data to help your website stand out as best as it can.
• Mobile, Mobile, Mobile!
It's probably safe to assume that there is not going to be a sudden shift from mobile back to desktop devices. The mobile-first index is in full-swing and for sites that have still yet to optimize for mobile – this should be at the top of their priority list! Mobile optimization entails creating a user-experience on your mobile site as good as your desktop (if not better!).
• Don't Keep People Waiting…
Page speed is more important than ever. The way people browse on mobile is much more demanding. People want to find things quickly & easily. So, if your site is taking too long to load. Chances are they will back up and move on to the next result. Not only increasing your bounce-rate but signalling to Google that your site may not be performing as well as others on the SERP.
• What was that about User Experience?
Creating a good experience for the users of your website is called User Experience. Ok, you probably got that one already. But, did you know that great UX actually helps people visiting pages on your site to stay longer & engage with them? Get this right & Google will pay attention! It's true that it's been no secret that UX is part of the SEO puzzle, but we predict UX will be crucial to site's success as more adopt mobile-friendly designs & compete for top-spots in cyberspace!
SE…Oh? – How to Keep Ahead of Digital Marketing Trends in 2018
Whether you are new to the SEO world or are keeping up-to-date with industry trends, the world of SEO can often seem daunting. Digital Marketing in 2018 is as, if not more, important than ever & being aware of that fact will only benefit your businesses online efforts.
Of course with new technologies and updated search engine results pages & algorithms, it's easy to forget about SEO basics that are also fundamental to your SEO success. Ensure your site has compelling title tags & metadata to improve CTR (click-through rates) and develop more meaningful interactions with your website, brand or e-commerce shop to successfully increase conversions.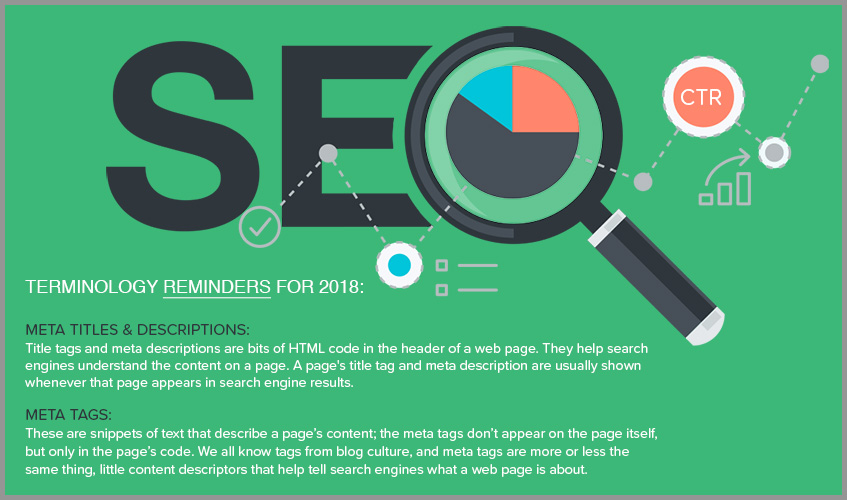 How SEO helps you win in 2018
Search engine optimisation can transform your business. Merging a variety of on-site and off-site processes that help search engines understand who you are, what you do and, most importantly, how relevant your site is to a searchers intent. But, SEO, is only one part of the Digital Marketing toolkit available to help your business grow in 2018 online. In fact, your business can benefit from a variety of options that will help your online footprint move forward successfully alongside the consumer shift to online retailing.
Developing effective marketing campaigns is the foundation of any marketing department. This remains true with digital marketing, so finding the processes that are effective for your company will help you succeed online. These processes include;
• PPC (Pay Per Click)
• Social Media
• Web Development
As you may have read, I like to think of each of these as pieces of the digital marketing puzzle. Alone they help, but together they catapult your online efforts to succeed! Depending on the nature of your business some parts of the puzzle may be more relevant. For example, PPC marketing may help you reach new customers & maximise return visit conversions.
The topic of web development is far-reaching. All websites look different. At least, they probably should. It's a little boring browsing the web and finding cookie-cutter sites that have lost all of their own spirit by using an out-of-the-box template available to all and everyone. Enticing people to your site with SEO and PPC efforts are great, but if you bring them to a website that is slow, dated and provides a difficult user experience – you'll soon see your bounce rate shoot up and your SEO efforts go to waste.
Enriching your business with everything it needs to get started in the digital marketplace is vital to making a significantly worthwhile return on investment. The first step is finding out how your business can benefit from the various digital marketing fundamentals available. With the help of Crescat Digital, we can help you understand the complicated technical jargon and confidently position your site where & when you need it.
Find out more about the services we offer here at Crescat Digital or speak with a member of our happy, helpful & chatty team today.