Google Analytics 4 (GA4) is described by Google as 'the next generation of analytics'. It was introduced in 2020 and represents a major overhaul of the existing platform.
GA4 looks and feels quite different and has several new features. If you have a Google Analytics account and have only ever used Universal Analytics (UA), it may take a little while to get used to.
When do I need to switch to Google Analytics 4?
Universal Analytics will become redundant in July 2023 and will stop processing new data. However, you will still be able to access your old data.
From the start of 2024, all historic analytics data will be deleted from UA. You will need to have exported your data before this date.
By transitioning to Google Analytics 4 now, you can begin data collection on GA4 while still running Universal Analytics, allowing time to get to grips with the new platform. By the time the old Google Analytics platform shuts down, you'll have a year's worth of GA4 data.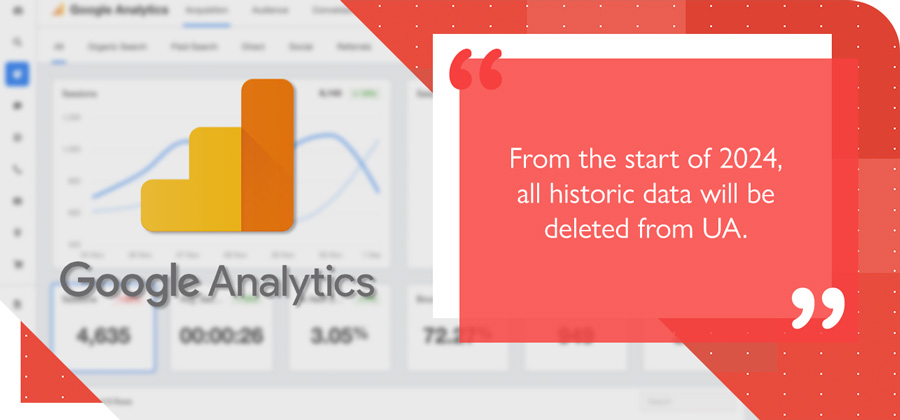 What are the differences between the two Google Analytics platforms?
In addition to changes in the user interface and terminology, there are some significant changes to the way in which data is treated and categorised. Three of the most pertinent are listed below, although there are many others to learn and discover:
UA and GA4 Data tracking
Universal Analytics uses a session-based tracking system; i.e. it primarily tracks page views. While you can add additional events within this, it requires some technical understanding of event tracking and Google Tag Manager.
Google Analytics 4 measures event-based data. It's more refined in how it observes and captures user interaction with a website and/or app, and how a user is engaging on and off the web with the property or properties set to be tracked.
'Events' are divided into four types:
Automatically collected events: page view, first visit, session start, etc.
Enhanced measurement events: track engagement with content, such as scrolls, outbound clicks, site search, downloads, etc.
Recommended events: not automatic, but can be set up to help collect additional data across the user journey.
Custom events: can be set up to measure a unique and customised data set.
What this also means is that GA4 provides a single platform to provide cross-device reporting. Universal Analytics had limited capacity to do this.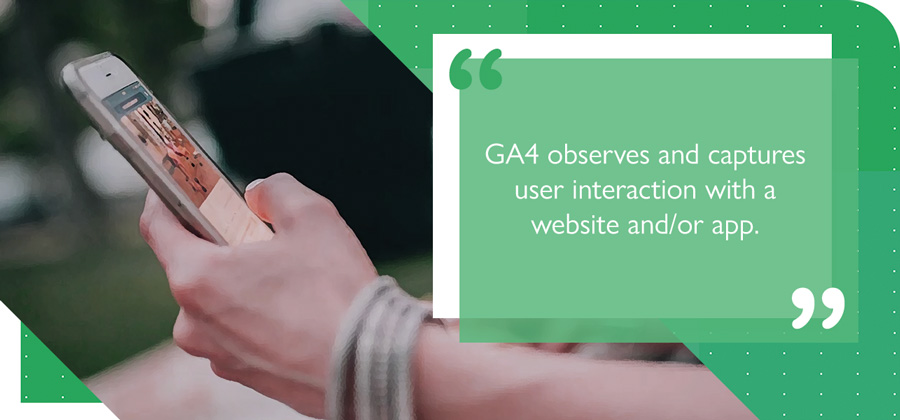 Predictive metrics
GA4 uses machine learning to analyse your data and predict future actions people may take.
This can have different outcomes. For example, it can predict the likelihood that users who have visited your app or site will make a purchase in the next seven days. It can also predict how likely it is a recently active user will not visit your app or site in the next seven days.
You could then use this data to target your Google Ads to the visitors who are most likely to make a purchase.
Privacy and cookies
Universal Analytics sets cookies on a user's browser when they visit a website that uses the platform. However, users are increasingly opting out of sharing data with third parties via cookies for privacy reasons. This results in gaps in the data.
One of the principal ambitions behind GA4 was to address this, creating a privacy-centric platform that could work with or without cookies.
While UA collects first- and third-party cookies, GA4 only relies on first-party cookies (the website provider's own). This allows it to comply with privacy laws.
Google Analytics 4 uses machine learning to fill in the gaps with 'blended data', i.e. machine learning and statistical modelling, to create an accurate view of users.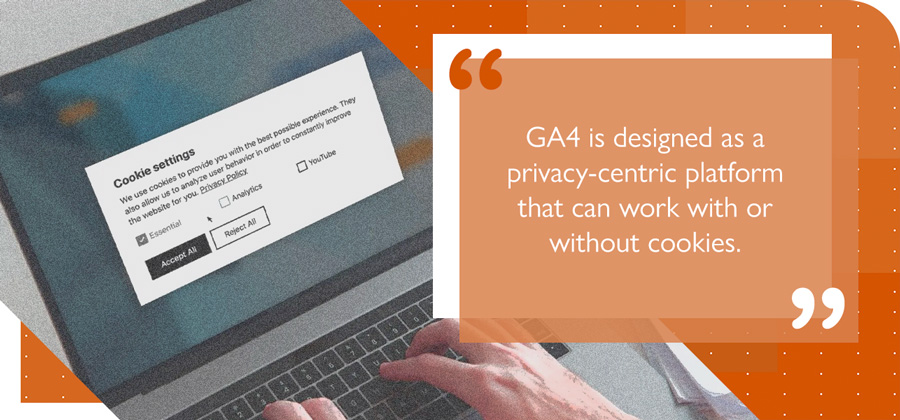 Google Analytics 4 will also anonymise IP addresses automatically with a setting that cannot be amended, and will only allow data storage for either two or 14 months. Universal Analytics allows this for up to 64 months.
Users will need to review their cookie-consent banners and privacy policies to ensure that any settings they have applied within GA4 are still privacy- and cookie-compliant.
Google Analytics 4 offers a powerful new set of tools for data analysis, which comes with many benefits. However, there is much to learn. The above is only really meant to act as an introduction.
To ensure you don't lose valuable data and are prepared for the UA shutdown, it makes sense to transition to Google Analytics 4 sooner rather than later.
If you're still unsure about next steps, best practices, or want professional help with your site analytics in general, we can help.
At Crescat Digital, we have the experience, training, and technical expertise to guide businesses through what is likely to be a historic and critical turning point in the evolution of commercial site analytics.
For an initial conversation about your circumstances, get in touch today.