Google My Business increases the potential for local customers to find your business by boosting your online presence and channelling any searches with local intent.
According to Google, businesses that make effective use of Google My Business are twice as likely to appeal to prospective customers or clients, as they appear more credible and established.
What is Google My Business?
Google My Business – formerly known as Google Places – is a free tool many businesses or organisations use to promote their online products and services via Google's search engine. It allows businesses to comprehensively manage business-related information appearing on Google. This may include:
business name;

link to the business website;

any relevant business images – e.g. a photo of the business premises;

business street address and telephone number;

opening and closing times;

map view of the business location;

customer reviews and star rating out of 5.
Google My Business does not replace your organisation's existing website. Instead, it can be used in conjunction with your website to strengthen your online presence and attract new customers.
Who should use Google My Business?
Google My Business is like an advanced business directory; it provides an effective means for people to source and review local businesses in a given area.
Whether you're searching for 'Italian restaurants in Brighton' or 'surveyors in Oxford', Google My Business is suitable for any searchable business operating locally, ideally with a premise or address.
Local hairdressers, tradesmen, solicitors, dentists, cafes and photographers are just some of the types of businesses which could benefit from using Google My Business. It's especially useful for smaller organisations who cannot afford to outsource their location-based marketing to external agencies.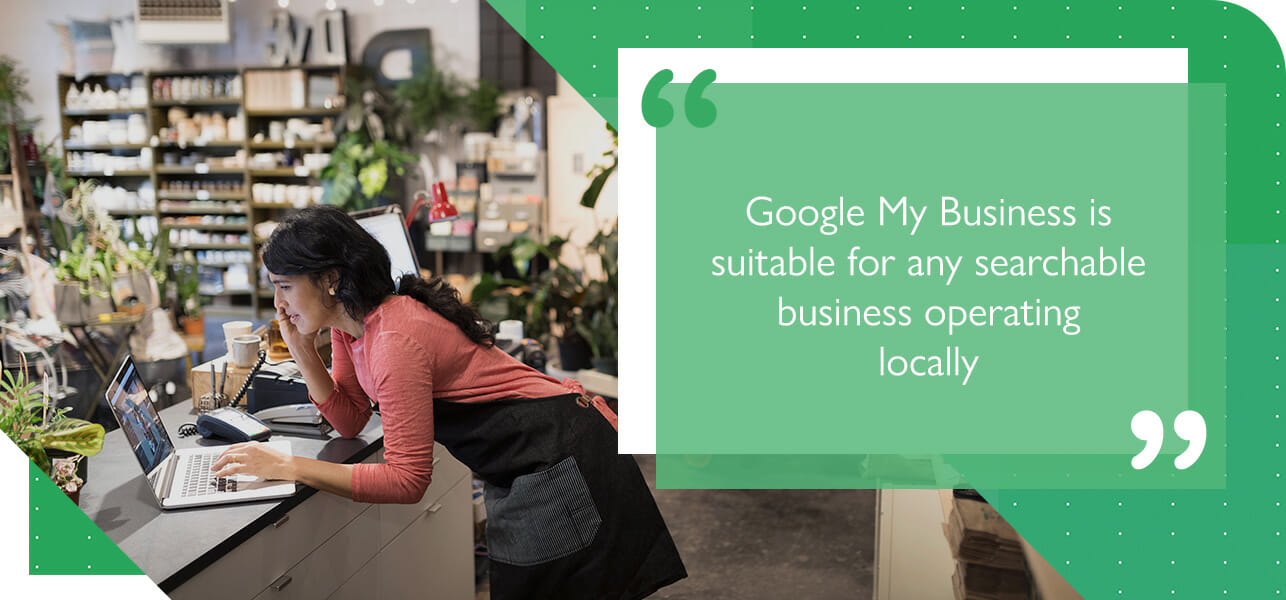 Why use Google My Business?
In today's world of competitive marketing, it's vital that your business doesn't get left behind. Aside from being free and easy to setup, you should embrace Google My Business for several key reasons:
Heightened access and visibility
Most people will instinctively turn to Google when searching for a product or service. They want to find information quickly and efficiently, without trawling through hundreds of website links. When using Google My Business, you can ensure that your business information is found quickly, in one centralised place.
You'll also achieve a greater presence in user search results, as Google My Business listings are often found above, or to the side, of a Google search results page.
If your website appears in the standard search result as well as on a Google My Business listing, you'll experience double exposure – increasing the potential for new customers to your website.
Customer interaction
With Google My Business, users will be able to access your information with ease. This can include important updates such as your latest product developments, events or special offers.
You can also post photos depicting what you offer and decide how you want to present your business, in order to build trust with customers.
Customers will be able to post reviews of your organisation, to which you'll be able to respond publicly. Such dialogue and interaction can be a powerful tool when it comes to developing customer loyalty. It also presents a far less biased view of a business, compared with a company website.
Understanding insight data
As a key feature of Google My Business, you can gain insights about your customers and how they interact with your business via online search. Here you can see where your customers are based, what they searched for to find you and whether they have requested directions to your business premises.
You'll be able to see the number of customers who have browsed specific photos or called you directly by clicking on the contact number displayed on Google My Business.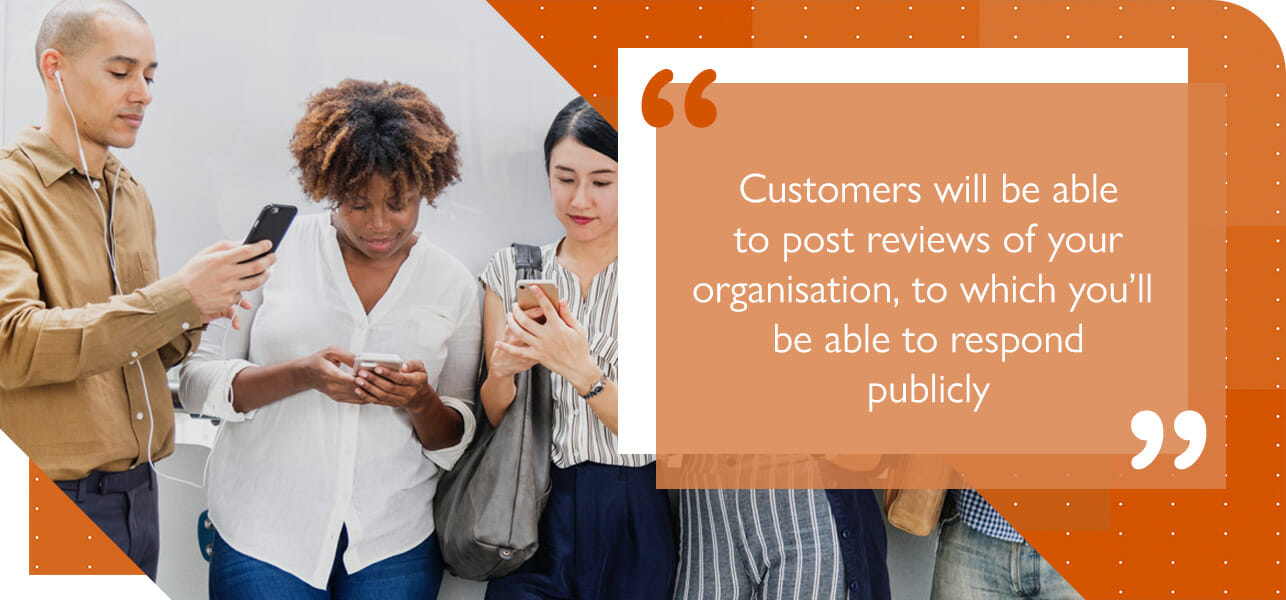 Smart campaigns
If you wish, you can integrate any Smart campaigns which are special ads which help to advertise your local business to potential customers who are searching for a business like yours. Smart campaigns will highlight your unique selling points, and you can create several campaigns to promote specific products and services.
By using the free Google My Business app, you can access your account to track your performance and update your listings on the go, hassle free.
Image suggestion: Infographic showing benefits of using GMB
Google My Business Optimisation
Just as you would optimise your business website, it's crucial to optimise your Google My Business profile. It's worth investing time into creating a listing which is accurate, effective and useful. You can achieve this by following the list of suggestions below:
Provide all relevant business information: operating hours, contact details and so forth. Don't leave anything out.
Ensure all content is accurate and grammatically correct.
Check your listing is verified once you sign up: usually this is via email.
Offer reliable and detailed descriptions of the services or features your business offers and its unique selling points. 
Include relevant keywords and phrases.
Keep business information up to date: especially if there are any changes, such as contact details or opening times.
Attach photos related to your business: according to Google,

businesses using photos on their listings

receive 42% more requests for driving directions to their location and 35% more clicks through to their website. Be sure to use an appealing profile picture which reflects the nature of your business or brand.
Respond to reviews: it's a great way to interact with customers and display how much you value them. Prompt people to leave feedback, as positive reviews will impact the way customers react to your business, whilst improving your visibility in search results.
Sign up to Google My Business
Don't miss the opportunity to help your business grow. Google My Business will allow you to engage with customers in new and exciting ways, whilst increasing your online visibility in the local area.
Create your business profile today. Alternatively, if you would like expert advice on a range of digital marketing services, feel free to contact our helpful team.